KAROLINA VIESER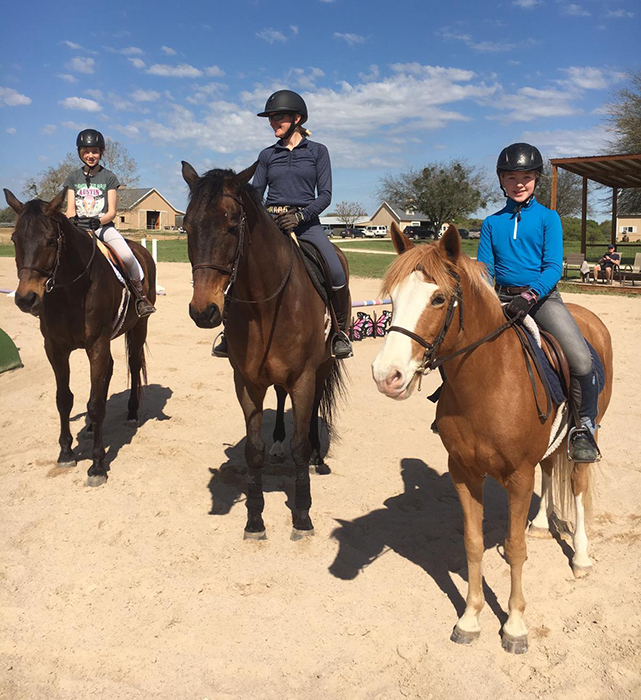 Karolina, featured above with her daughters, offers deep and long experience in riding, showing and horsemanship.
When she was 8, she went with a friend to a local Welsh Mountain stud to have her first horse lesson on one of the old broodmares, and never looked back. She has continued to ride and develop herself as a horsewoman, rider and hunter/jumper ever since. After high school she took a year off to train and manage a barn in Sweden before attending college. She continued to ride, jump and show throughout her adult life, combining her horse riding with a Marketing Degree, a professional career in Marketing and eCommerce, and raising her two daughters.
Karolina is a passionate student of horsemanship, jumping and riding, and she's developed her approach with the help some of the most prominent riders and horse trainers in Sweden, including Helena Persson, seven times Swedish champion and the reserve for the 2012 Swedish Olympic Equestrian team and Lars Parmler, a horse trainer of the Swedish national equestrian team, and a student of Nelson Pessoa and George Morris. She boarded her first show jumper at a barn right in the middle in the city of Stockholm and showed successfully in the same jumping arena that hosted the 1912 Olympics.
In 2002, after moving to Austin in a company transfer, Karolina started riding under Glenn & Phoebe Johnson and Beverly Manroe at Switch Willo Stables. She bought her mare, Circe, in Austin and showed at local and 'A' horse shows and has carefully matched Circe so that, at age 22, she's still enjoying horse showing with outstanding results. Karolina most recently rode under Mary & Lisa Goldman at the hunter/jumper facility in Hawthorn Woods, Illinois.
Karolina enjoys working with students of all levels and emphasizes safety and confidence in both horse and rider. She believes passionately that training, riding and jumping horses should be filled with joy for everyone involved.